• activities • allergies • dog walking • fall • hiking • zen • zen bites • zen drops • zen frenz
Here at Zen Frenz, fall is one of our favorite times of the year. The days get shorter and the fall foliage begins its change from green to crimson, orange, and gold. Hot coffee takes on new meaning when crisp mornings herald the approaching autumn. A morning walk by nearby ponds and lakes takes on a mysterious feeling with wisps of fog rising from the water. Dogs also enjoy these moments along with the quality time they spend with their owners. Here are a few things dogs love about fall below.  Fewer Allergies Spring and summer months bring on allergies. Whether from...
---
• calming chews • cbd • cbd dog treats • cbd for pets • cbd for travel • cbd oil for dogs • cbd oil for pets • dog • dog daycare • dog food • dog park • dog walking • dogs • fitness • old • reduce shedding • senior • skin and coat
Here at Zen Frenz, we're so fortunate to have been able to help dogs of all ages. From young pups to double digit warriors our products have made them feel much more Zen! One testimonial we'd like to share is from a member of our Zen Frenz family Annette Lecair with her goldendoodle Tucker, who said, "I honestly believe because of zen dogs cbd we had four more happy healthy years with Tucker."  By most accounts, dogs are considered seniors after age six or seven. Large breeds age faster than small breeds, so there's some wiggle room in that timeline....
---
• activities • anxiety • dog walking • exercise • socializing • summer activities
You will be hard-pressed to find a better running partner than your dog. They are always eager to get out the door, no matter the weather. They don't care about your pace, how far you go, and they never complain. Plus, regular cardiovascular activity benefits both you and your dog mentally, emotionally, and physically. However, running can take its toll on your pup. So make sure to bring along some Zen Bites to help with joint and mobility support! So leash up your best friend and find the nearest single track to experience the joy of trail running side by...
---
• cbd dog treats • cbd for pets • cbd for travel • dog food • dog recipes • dog swimming • dog treats • dog walking • summer • summer fun • summer heat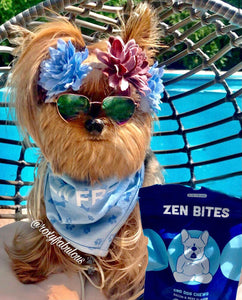 Refreshing and Healthy Summer Dog Treats Summer is here and the temperature is rising! Hot weather means cooling down with tasty treats. While you might want to share with your dog who is staring you down and licking their lips, not many human treats are safe for your pup to eat. But that doesn't mean your pup has to miss out! Check out these sweet and savory frozen treats that will not only keep your dog hydrated during the dog days of summer, but are a great source of healthy nutrients.  1. Pupsicles + Ice Cream Watermelon, cantaloupe and strawberry,...
---
• activities • dog • dog walking • exercise
During this time where people are getting back to going to their jobs and becoming very busy, it is hard to give your dog undivided attention. However, giving your dog the opportunity to express their energy everyday to you is so important! Coming home from work or a busy day running errands, you can find time to play with your dog at HOME!!!   Play Fetch! Most dogs love to play fetch! It gives them exercise and will get their energy out. When playing fetch, the dogs are getting your undivided attention and so they feel special and loved.  ...