• activities • cbd for pets • celebration • events with pets • new years eve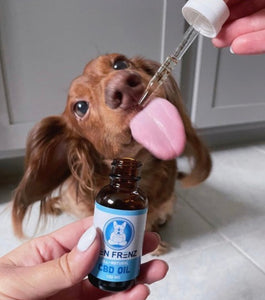 New Years is a great time to celebrate with family and friends. We get to watch a beautiful fireworks show and in some places light our own! Unfortunately this day isn't as fun for our pets who can hear much better than us and get easily startled by these loud noises. New Year's Eve is the day when most pets go missing because they run away in fear. Lots of pets get very anxious; one way to ease their anxiety is by using Zen Frenz Zen Drops which are great for anxiety relief. Keep reading to hear about our other...
---
• cbd for pets • celebration • Gratitude • thanksgiving
This thanksgiving is a special one because we are able to safely celebrate thanksgiving with our loved ones once again. We are so excited to be with the ones we love and that definitely includes our dogs! If you are visiting a friend or family for thanksgiving and want to bring your dog along, here are some helpful tips to keep in mind before Thursday. 1. Make Sure Your Dog is Invited While we love our dogs and want them involved in all of our events, it is important to make sure the hosts feel the same. It never hurts...
---
• cbd for pets • fall • Gratitude • zen bites
At Zen Frenz we're dedicating the month of November to gratitude, which means we're thinking about what we're most thankful for. In a couple of weeks, it will be time to gather with our friends and family, but it's never too soon to be grateful! One thing we love the most is our pets; keep reading to find out why we are thankful for our pets this giving season. Companionship Pets are our most constant and consistent friends because they will always be there for us through good times and bad. They're never too busy for us and will be...
---
• cbd • cbd dog treats • cbd for pets • dog recipe • dog recipes • peanut butter • recipe • treat recipes
Here at Zen Frenz, we recently launched our Zen Frenz Peanut Butter. It has quickly become very popular and is flying off the shelves. We've found that owners use it mostly as a special treat for their pups. We've done some research and discovered a simple tasty treat recipe for when your pup deserves an extra special treat.  Homemade dog treats are the best way to show your pet that you love them like family! These homemade peanut butter dog treats are an easy dog biscuit recipe that your fur baby would request every week if they could. If you've...
---
• anxiety • barking • cbd • cbd dog treats • cbd for pets • zen • zen bites • zen drops • zen frenz
Here at Zen Frenz, we're so grateful that we've had the opportunity to meet and help so many pups. However, not all dogs react to meeting new people the same way. Over time, we've figured out the best way to greet a dog. Start by asking the dog's person for permission to greet their dog. If they say no, understand that they're only doing what they believe is best for their pet and don't take it personally. Assuming they say yes, follow these steps: Don't approach the dog. Pretend you're ignoring her and allow the dog to approach you if...