• activities • cbd for pets • celebration • events with pets • new years eve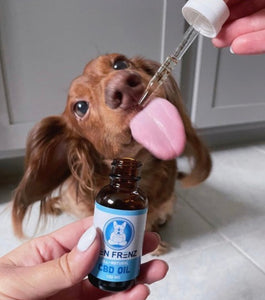 New Years is a great time to celebrate with family and friends. We get to watch a beautiful fireworks show and in some places light our own! Unfortunately this day isn't as fun for our pets who can hear much better than us and get easily startled by these loud noises. New Year's Eve is the day when most pets go missing because they run away in fear. Lots of pets get very anxious; one way to ease their anxiety is by using Zen Frenz Zen Drops which are great for anxiety relief. Keep reading to hear about our other...
---
• activities • celebration • christmas • community
December is a holiday packed month, which means we'll be spending lots of time with family and friends. In all of this excitement it can be easy to forget about including our pets. No matter how or what you celebrate this year, keep reading for some tips to include our furry friends this holiday season.  Christmas Decorating Cooking is always a favorite not only among children, but adults too. This year when you sit down to decorate cookies, consider making some treats for your dog too! That way they can have some fun at the table as well. If you...
---
• celebration • christmas • do's and don'ts • dog breed • dog community
With the holiday season approaching, we are all thinking about what gifts we can get our loved ones. A very common idea especially for children is a puppy. While the idea of your child falling in love with a cute puppy during the holidays is charming, it is important to consider what comes after. Sadly many dogs are given to the shelter after the holidays because they were bought without any forthought. In order to avoid that tragedy this year, keep reading for important considerations before getting a new pet.   Research      Getting a dog requires research to ensure...
---
• cbd for pets • celebration • Gratitude • thanksgiving
This thanksgiving is a special one because we are able to safely celebrate thanksgiving with our loved ones once again. We are so excited to be with the ones we love and that definitely includes our dogs! If you are visiting a friend or family for thanksgiving and want to bring your dog along, here are some helpful tips to keep in mind before Thursday. 1. Make Sure Your Dog is Invited While we love our dogs and want them involved in all of our events, it is important to make sure the hosts feel the same. It never hurts...
---
• celebration • cooking • dog food • Gratitude • thanksgiving • treat recipes
The air is getting crisp and the leaves are starting to fall, that means that the giving season is upon us. Thanksgiving is one of our favorite holidays because it means we get to be surrounded by the people (and animals) we love! There is so much to be grateful for and thanksgiving dinner is definitely one of them. Sometimes our furry friends can be forgotten about, but this year we can show our dogs how much we love them by including a special meal for them. Keep reading for a five star, three course, dog safe thanksgiving feast. *Turkey...