• calming chews • healing balm • hemp oil • instagram • peanut butter • shampoo • zen bites • zen drops • zen frenz
Zen Frenz was started in 2018 by Alex Gray with an idea and passion for helping all pets live their best lives. Since then, we have helped thousands of pets get zen and live healthy lives. We are located in Los Angeles, California and have traveled all across the United States where we have products in various stores in various states.  Early Days Originally branded as Zen Dogs and Cool Cats we started with just two products: our Zen Dogs and Cool Cats CBD oil and Zen Bites. There were two versions of the oil with 250mg and 500mg. Over...
---
• calming chews • hemp oil • non-CBD • zen • zen bites • zen drops • zen frenz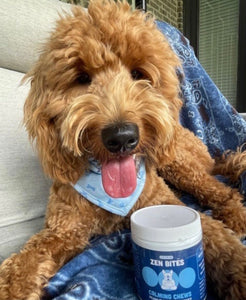 Here at Zen Frenz we are best known for our CBD products such as our Zen Drops and Zen Bites. However, our non-CBD products often get overlooked. The Calming Chews and Hemp Oil can both tremendously help all types of pets with anxiety and so much more. Just like humans, dogs experience anxiety. While unpleasant, it is a normal and also healthy emotion. Dog anxiety can affect all breeds, but may affect each individual dog differently. Although it is something that all dogs experience from time-to-time, if disproportionate levels of anxiety are left unchecked, a dog can develop an anxiety...
---
• calming chews • calming supplements • do's and don'ts • dog training • pet boarding • pet training • zen bites
One of the biggest challenges that any pet owner faces is preventing their pup from chewing up their belongings. Boredom, stress, and a lack of training can be some of the primary causes of this habit. From young puppies to stubborn old dogs, this is a common problem that claims the lives of many innocent goods.   A fair warning for those with very young pups that have this problem: they may be teething and be chewing as a way to ease the pain of their teeth growing in. Here are a few tips and tricks to prevent this global...
---
• calming chews • cbd • cbd dog treats • cbd for pets • cbd for travel • cbd oil for dogs • cbd oil for pets • dog • dog daycare • dog food • dog park • dog walking • dogs • fitness • old • reduce shedding • senior • skin and coat
Here at Zen Frenz, we're so fortunate to have been able to help dogs of all ages. From young pups to double digit warriors our products have made them feel much more Zen! One testimonial we'd like to share is from a member of our Zen Frenz family Annette Lecair with her goldendoodle Tucker, who said, "I honestly believe because of zen dogs cbd we had four more happy healthy years with Tucker."  By most accounts, dogs are considered seniors after age six or seven. Large breeds age faster than small breeds, so there's some wiggle room in that timeline....
---
• activities • anxiety • calming chews • celebration • events with pets • summer events • zen bites
As the Fourth of July is coming up and everyone is grabbing their loved ones to celebrate this holiday this year you want to be looking the best as possible. You also want your pets to look at the best they can be. Everyone wants their pet to be the center of attention because of all the compliments they can get! Thinking of ideas of how to dress your pet up might be hard, so here are five ideas you can try!   Spray paint your dog as the flag! Now this might seem a little crazy, but why not?!...