• beach • summer travel • travel • traveling with cbd products • traveling with pets
Ready to get away this summer? Not wanting to check your dog into a daycare? Well we have got you covered with some of our favorite places to take your dog on.   Nothing is more relaxing than taking a nice stroll along the beach or explore incredible trails. So why not take your pup along for the ride?   Bend, Oregon   Especially if they love the outdoors, there are 13 off-leash areas that you can explore with your furry friend. There are many access points to water along the many rivers that Bend is home to.  Additionally, Bend...
---
• activities • cbd for travel • hiking • summer travel • travel • traveling with cbd products • traveling with pets • zen bites • zen drops • zen frenz
Here at Zen Frenz, we love all things Zen. Nature is one of our favorites and is often overlooked in our busy lives. Nature also makes for good high quality photos with natural lighting too that benefits anyones complexion. So next time you're out and about make sure to take some pics of you and your pets. We've come up with a list of a few tips and tricks to get the best photos that signify a zen and natural message. 1. Research and Plan Ahead This is a very common theme in this article, but it's so important to...
---
• cbd oil for dogs • dogs • driving • summer • summer heat • summer travel • travel • traveling with pets
Whether it is to take your furry friend with you to the park or to a veterinarian check-up, getting them to agree to come along can be either an easy conviction or a stressful situation. Regardless, there are many tricks and products that can help ensure the safety of your pup and everyone in the car.   Secure Your Pup in Crash-Tested Seatbelts/Harnesses   The road is a very unpredictable environment where even the safest drivers can find themselves being caught in a dangerous situation. Therefore, it is necessary to prepare ahead of time in case of an accident to...
---
• events with pets • summer events • summer fun • traveling with pets
In case you missed it, it's almost summertime! And with restrictions being lifted and everyone getting vaccinated, it looks like we are on track to go back to enjoying some of our favorite summer activities. Just remember when you are out and about that you still need to follow both CDC guidelines and your local regulations! If we want things to continue to re-open, everyone needs to do their part to stay safe and healthy.  Another great thing is that many of the outdoor summer events in Los Angeles (and in many other cities) are pet-friendly! Bringing your pup can...
---
• cbd for travel • summer travel • travel • traveling with cbd products • traveling with pets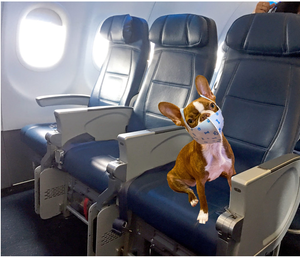 Nervous about traveling with CBD? Unsure about the laws and regulations surrounding CBD? Considering how new CBD is on the market and its close association with marijuana products it is easy to see how traveling with CBD might make you nervous. So hopefully we can clear up all of your questions and alleviate your concerns! Can you fly with CBD? Yes! You can fly with CBD products, they are federally legal and therefore can safely pass through airport security. '"Consumers can consider traveling with CBD products to be the same as traveling with any other over-the-counter supplements," says Joshua Bauchner,...