• activities • cbd for pets • celebration • events with pets • new years eve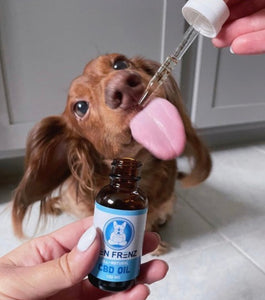 New Years is a great time to celebrate with family and friends. We get to watch a beautiful fireworks show and in some places light our own! Unfortunately this day isn't as fun for our pets who can hear much better than us and get easily startled by these loud noises. New Year's Eve is the day when most pets go missing because they run away in fear. Lots of pets get very anxious; one way to ease their anxiety is by using Zen Frenz Zen Drops which are great for anxiety relief. Keep reading to hear about our other...
---
• activities • celebration • christmas • community
December is a holiday packed month, which means we'll be spending lots of time with family and friends. In all of this excitement it can be easy to forget about including our pets. No matter how or what you celebrate this year, keep reading for some tips to include our furry friends this holiday season.  Christmas Decorating Cooking is always a favorite not only among children, but adults too. This year when you sit down to decorate cookies, consider making some treats for your dog too! That way they can have some fun at the table as well. If you...
---
• activities • winter
The winter means we'll be spending a lot more time indoors and that applies to our pets too. The cold temperatures can be uncomfortable and dangerous for our furry friends who still need to stay active. There are plenty of indoor and outdoor activities to entertain and tire out your dogs this holiday season. If you are curious about winter activities with your dog, keep reading. Mental Workout Sometimes a mental challenge can be just as hard, if not harder, than a physical one. Spending too much time lounging inside can leave your dog restless. Rather than leaving food in...
---
• activities • allergies • dog walking • fall • hiking • zen • zen bites • zen drops • zen frenz
Here at Zen Frenz, fall is one of our favorite times of the year. The days get shorter and the fall foliage begins its change from green to crimson, orange, and gold. Hot coffee takes on new meaning when crisp mornings herald the approaching autumn. A morning walk by nearby ponds and lakes takes on a mysterious feeling with wisps of fog rising from the water. Dogs also enjoy these moments along with the quality time they spend with their owners. Here are a few things dogs love about fall below.  Fewer Allergies Spring and summer months bring on allergies. Whether from...
---
• activities • anxiety • halloween • zen • zen drops • zen frenz
Here at Zen Frenz, we strive to allow all pets to live their best lives possible. We believe no pet should have to miss out on any activities either due to their anxiety or if their joints aren't as strong as they used to be. Halloween is right around the corner and it can be difficult for some pets. Halloween can be a hectic night for humans, but for dogs it can feel even more crazy with an endless parade of kids coming to the door, scary costumes and lots of off-limit treats. Here are some tips to make your...