• activities • healing balm • shampoo • summer • summer activities • zen • zen drops • zen frenz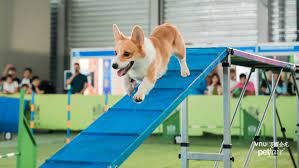 Here at Zen Frenz, we compete to be the best pet wellness company. And with the Olympics currently going on we've become completely obsessed and blown away by the athletes and competitions. We just wish we could see what our feline friends could do on a national stage! However, there are dog competitions and olympics that go on regionally. We wish every pup the best on their quest for the gold medal!  Are There Dog Olympics? While there is not one massive worldwide dog Olympics event where countries compete against each other, several smaller events are held around the world...
---
• activities • dog • dog treats • summer • zen bites
Over the summer people have been getting new pets and need to teach their dogs how to behave and obey. Here at Zen Frenz, we are all about the wellness of your pet. Wellness includes the behavior of your dog. Below is a way to teach your dog how to sit! With your dog in a standing position, hold a tasty treat near their nose. You can try a Zen Frenz Calming Chew or even a Zen Frenz Bacon and Beef Zen Bites! Keeping the treat near your dogs nose, move your hand in an arc over his head. As...
---
• activities • inside • summer • summer activities • summer heat
With heat waves coming across the nation, it is more important now than ever to keep your pup cool while still getting proper exercise in. Many dogs with heavy fur coats don't have the option to run around outside as they will immediately tire due to the temperature.   Taking the time to exercise your dog is one of the most important things you can do to keep them healthy. Not only will their physical health improve, but their mental health will increase as well through learning the rules of each of the games that you play with them. Additionally,...
---
• beach • dog parks • dog swimming • dogs • summer • summer activities • summer fun • summer heat • summer travel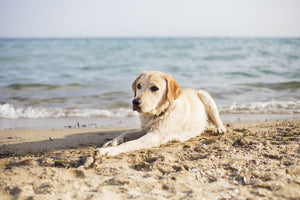 With the hottest months of the year underway, the beach is a perfect way to get your dog outside without them becoming exhausted in the heat. These 10 beaches are some of the most stunning yet accommodating locations across the country.   Carmel Beach: Carmel-by-the-Sea California   For our Central California frenz, this beach is the place to be as there are many nearby pup-friendly restaurants with dog cuisine available.   Surfside Beach: Nantucket, Massachusetts   This wide beach with plenty of area for your pup is the perfect east coast spot to take your dog out to a nice...
---
• cbd oil for dogs • dogs • driving • summer • summer heat • summer travel • travel • traveling with pets
Whether it is to take your furry friend with you to the park or to a veterinarian check-up, getting them to agree to come along can be either an easy conviction or a stressful situation. Regardless, there are many tricks and products that can help ensure the safety of your pup and everyone in the car.   Secure Your Pup in Crash-Tested Seatbelts/Harnesses   The road is a very unpredictable environment where even the safest drivers can find themselves being caught in a dangerous situation. Therefore, it is necessary to prepare ahead of time in case of an accident to...