• calming chews • cbd • cbd dog treats • cbd for pets • cbd for travel • cbd oil for dogs • cbd oil for pets • dog • dog daycare • dog food • dog park • dog walking • dogs • fitness • old • reduce shedding • senior • skin and coat
Here at Zen Frenz, we're so fortunate to have been able to help dogs of all ages. From young pups to double digit warriors our products have made them feel much more Zen! One testimonial we'd like to share is from a member of our Zen Frenz family Annette Lecair with her goldendoodle Tucker, who said, "I honestly believe because of zen dogs cbd we had four more happy healthy years with Tucker."  By most accounts, dogs are considered seniors after age six or seven. Large breeds age faster than small breeds, so there's some wiggle room in that timeline....
---
• beach • dog parks • dog swimming • dogs • summer • summer activities • summer fun • summer heat • summer travel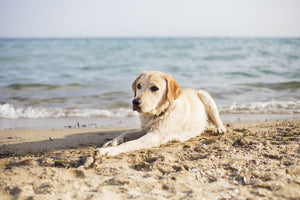 With the hottest months of the year underway, the beach is a perfect way to get your dog outside without them becoming exhausted in the heat. These 10 beaches are some of the most stunning yet accommodating locations across the country.   Carmel Beach: Carmel-by-the-Sea California   For our Central California frenz, this beach is the place to be as there are many nearby pup-friendly restaurants with dog cuisine available.   Surfside Beach: Nantucket, Massachusetts   This wide beach with plenty of area for your pup is the perfect east coast spot to take your dog out to a nice...
---
• cbd oil for dogs • dogs • driving • summer • summer heat • summer travel • travel • traveling with pets
Whether it is to take your furry friend with you to the park or to a veterinarian check-up, getting them to agree to come along can be either an easy conviction or a stressful situation. Regardless, there are many tricks and products that can help ensure the safety of your pup and everyone in the car.   Secure Your Pup in Crash-Tested Seatbelts/Harnesses   The road is a very unpredictable environment where even the safest drivers can find themselves being caught in a dangerous situation. Therefore, it is necessary to prepare ahead of time in case of an accident to...
---
• dog community • dogs • meditation • pet • pet wellness • zen • zen frenz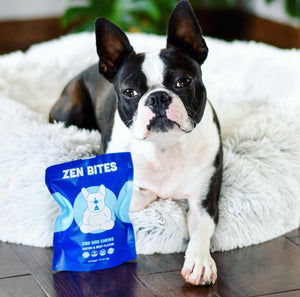 Here at Zen Frenz we are all about getting zen and nothing is more important than sleep. Sleep is an important part of a puppy's life because most growth occurs during this time. Also, a well-rested puppy is a healthy puppy. You want to make sure that your puppy is comfortable and has a bed to call his own. There are many different pet beds from which to choose. Most beds involve a soft cushion for a base and then may be open or enclosed with a long, thin stretch of pillow called a bolster. The cushion could also be...
---
• dog • dog breeds • dog community • dogs • exercise • pet • pet talk • zen frenz
Are you thinking about getting a dog but don't know which kind? There are so many different breeds to choose from and it is hard to know if you made the perfect choice. Knowing the characteristics of dogs and what you might get yourself into is so important before getting a doggy of your own!  Here are the most popular breeds of dogs: Labrador Retrievers Labrador retrievers are great dogs that live up to 12-12.5 years! They are outgoing and very friendly. They are big dogs however and can get up to 55-80 pounds! If you love big dogs, this...