• calming chews • healing balm • hemp oil • instagram • peanut butter • shampoo • zen bites • zen drops • zen frenz
Zen Frenz was started in 2018 by Alex Gray with an idea and passion for helping all pets live their best lives. Since then, we have helped thousands of pets get zen and live healthy lives. We are located in Los Angeles, California and have traveled all across the United States where we have products in various stores in various states.  Early Days Originally branded as Zen Dogs and Cool Cats we started with just two products: our Zen Dogs and Cool Cats CBD oil and Zen Bites. There were two versions of the oil with 250mg and 500mg. Over...
---
• bath • cbd • dog • shampoo • zen • zen frenz
Here at Zen Frenz, we believe "Look good, feel good" and this is the same for your pup. A fresh bath makes a huge difference for your dog and it will make them feel fresh and rejuvenated. However, sometimes this task can be a little challenging. Whether your dog loves baths or runs the other way,  bathing your dog regularly is an important part of caring for your pet. Here are some tips and tricks to help your pet get zen! How Often Should You Bathe Your Dog?  Unless your pooch just spent the afternoon splashing in mud puddles, you...
---
• activities • healing balm • shampoo • summer • summer activities • zen • zen drops • zen frenz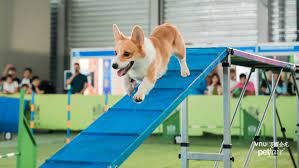 Here at Zen Frenz, we compete to be the best pet wellness company. And with the Olympics currently going on we've become completely obsessed and blown away by the athletes and competitions. We just wish we could see what our feline friends could do on a national stage! However, there are dog competitions and olympics that go on regionally. We wish every pup the best on their quest for the gold medal!  Are There Dog Olympics? While there is not one massive worldwide dog Olympics event where countries compete against each other, several smaller events are held around the world...