• activities • fall • healing balm • zen bites • zen drops • zen frenz
Here at Zen Frenz, our motto is to allow your pet to get zen on any occasion! One occasion coming up is this fall is halloween! In order to get into the fall spirit, we've come up with a list of a few things you can do with your furry best friend this fall.  Visit An Apple OrchardThe apples are ripe for the picking, and a visit to the orchard is a great way to get outside and enjoy the cool, crisp, fall air. Many orchards allow dogs, but be sure to check your local orchard's rules about dogs before...
---
• calming chews • healing balm • hemp oil • instagram • peanut butter • shampoo • zen bites • zen drops • zen frenz
Zen Frenz was started in 2018 by Alex Gray with an idea and passion for helping all pets live their best lives. Since then, we have helped thousands of pets get zen and live healthy lives. We are located in Los Angeles, California and have traveled all across the United States where we have products in various stores in various states.  Early Days Originally branded as Zen Dogs and Cool Cats we started with just two products: our Zen Dogs and Cool Cats CBD oil and Zen Bites. There were two versions of the oil with 250mg and 500mg. Over...
---
• activities • healing balm • zen • zen frenz
Here at Zen Frenz, we are always looking for new ways to help our furry friends improve their lives. Just a month ago we launched our Zen Healing Balm. It's an all natural solution for both Dogs and Cats made with sunflower seed oil, shea butter, beeswax, Cedarwood, and cannabidiol (CBD). It helps soothe dry and itchy skin, reduce inflammation, and aid cuts and wounds. Here are some tips for how to apply our dog balm.  BEFORE USING Ensure the safety of your paw balm - does it come with any warnings or mention of possible allergens? Check that the...
---
• activities • healing balm • shampoo • summer • summer activities • zen • zen drops • zen frenz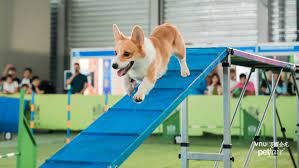 Here at Zen Frenz, we compete to be the best pet wellness company. And with the Olympics currently going on we've become completely obsessed and blown away by the athletes and competitions. We just wish we could see what our feline friends could do on a national stage! However, there are dog competitions and olympics that go on regionally. We wish every pup the best on their quest for the gold medal!  Are There Dog Olympics? While there is not one massive worldwide dog Olympics event where countries compete against each other, several smaller events are held around the world...