The 4th of July is a special day in the United States, a time for celebration, fireworks, and gathering with loved ones. But why should our furry frenz miss out on all the fun? Including your pet in the festivities can create unforgettable memories while ensuring their safety and well-being. In this blog post, we'll explore some tips and ideas to celebrate Independence Day with your beloved pet, making it a truly paw-some experience! To start off, get into the patriotic spirit by dressing up your pet in cute and comfortable outfits! From bandanas to t-shirts or even small hats,...
---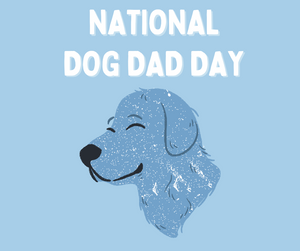 In a world where dogs have firmly earned the title of "man's best friend," it's only fitting that we set aside a special day to celebrate the bond between canines and their devoted dads. National Dog Dad Day is a time to honor and appreciate those incredible individuals who go above and beyond to provide love, care, and companionship to their furry companions. On this day, dog dads everywhere are recognized for the joy, support, and unconditional love they bring into the lives of their four-legged frenz. The relationship between humans and dogs spans thousands of years, and it is...
---
Throughout our blogs, we have mostly been exploring happy topics, but this one is going to be a sore subject for many people. This upcoming Tuesday will be World Pet Memorial Day, a day where we honor and remember the cherished pets who have brought joy, companionship, and unconditional love into our lives. This special day allows us to reflect on the profound impact our furry frenz have had on us, providing solace and a sense of closure during the mourning process. While Pet Memorial Day is not until June 14th, it is never too early or too late to...
---
Every year on June 4th, the world comes together to celebrate International Corgi Day, a special occasion dedicated to honoring these adorable and charismatic four-legged companions. Corgis, with their short legs, long bodies, and playful personalities, have captured the hearts of dog lovers worldwide. Beyond their cuteness, International Corgi Day holds immense importance as it shines a spotlight on these delightful creatures, while also promoting various aspects of responsible pet ownership and animal welfare. While International Corgi day was yesterday, it is still worth talking about. After all, this entire week is Pet Appreciation Week, so we can still show...
---
June is a special month for all cat lovers out there—it's Adopt a Cat Month! Admittedly, I've been talking a lot about dogs in previous blogs, but it's about time I show love to our feline frenz. June serves as a reminder of the joy and companionship that cats bring to our lives. Whether you're a seasoned cat owner or considering adopting your first pet, this month offers the perfect opportunity to celebrate and encourage cat adoption. In this blog post, we'll explore the significance of Adopt a Cat Month and highlight why adopting a cat can be a life-changing...