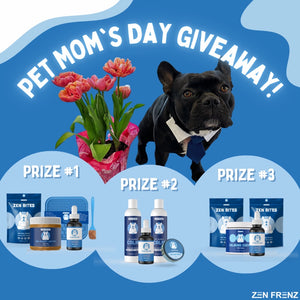 Every year on the second Saturday of May, we celebrate National Dog Moms Day—a special day dedicated to honoring the incredible women who embrace the title of "dog mom." This day recognizes the unique bond between a dog and their human caregiver, celebrating the love, companionship, and joy that dogs bring into our lives. Join us as we dive into the significance of National Dog Moms Day and explore ways to appreciate and cherish the remarkable bond between dog moms and their beloved furry friends. The bond between dog moms and their furry frenz is unlike any other. It's a...
---
Just like humans, pets can also suffer from mental health problems. As pet owners, it's important to recognize the signs of mental health issues in our pets and take steps to promote their mental well-being. In honor of Mental Health Awareness Month, we wanted to talk about some of the ways we can help our frenz get zen. After all, a happier pet equals a happier you! Mental health problems in pets can manifest in many different ways, including anxiety, depression, and destructive behavior. These issues can be caused by factors such as genetics, trauma, and environmental stressors. It's important...
---
National Pet Month is an annual celebration that takes place in the United States every May. This month-long event is all about showing love for our furry frenz and recognizing their significance in our lives. So, grab your pet and let's dive into the significance of National Pet Month! The History Behind National Pet Month This was first established in 2006 by the National Association of Professional Pet Sitters (NAPPS). The purpose was to recognize the special bond between humans and pets and promote responsible pet ownership. Since then, it has grown into a nationwide celebration that unites pet lovers....
---
The end of the holiday season marks our return into our busy everyday lives. Whether you're a parent, a student, or someone working a full-time job–the daily needs of our pets can often interfere with the busy schedules we set for ourselves. While using CBD in your daily routine with your pet can seem daunting, especially for first time users, the benefits of CBD for your pet's mental and physical wellbeing can alleviate many of the daily stresses in our routines. Before beginning to use CBD in your daily routine, we recommend reading our latest article regarding the science behind...
---
We understand that trying CBD products may seem intimidating to many pet-owners, especially with so many other unfamiliar ingredients listed on products. In order to better understand how our edible CBD products are made and whether these products would work best for your pet, here is a basic rundown of the important ingredients that go into our products at Zen Frenz! To get a closer look into why we use CBD in our products, check out our blog post on the science behind CBD for pets.  1. Zen Drops We currently offer 4 variations of Zen Drops that are tailored...