• calming chews • cbd • cbd dog treats • cbd for pets • cbd for travel • cbd oil for dogs • cbd oil for pets • dog • dog daycare • dog food • dog park • dog walking • dogs • fitness • old • reduce shedding • senior • skin and coat
Here at Zen Frenz, we're so fortunate to have been able to help dogs of all ages. From young pups to double digit warriors our products have made them feel much more Zen! One testimonial we'd like to share is from a member of our Zen Frenz family Annette Lecair with her goldendoodle Tucker, who said, "I honestly believe because of zen dogs cbd we had four more happy healthy years with Tucker."  By most accounts, dogs are considered seniors after age six or seven. Large breeds age faster than small breeds, so there's some wiggle room in that timeline....
---
• dog walking • faq • fitness • summer • summer heat • temperature • training tips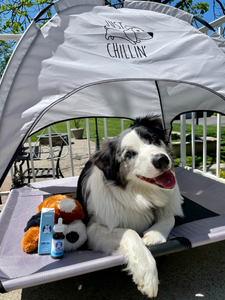 With May soon coming to an end and the hottest parts of the year on their way, it is a good time to talk about pet safety in the heat. As pet owners, we always want what is best for our pets, making sure they are as happy and healthy as possible. If you want to live a healthy lifestyle it is important that you are eating good food, drinking water, and exercising. Those four basics are applicable to everyone, including our pets. It is equally important that they get good food, water, and exercise. But as the temperature and...