• activities • do's and don'ts • dog • dog talk • events with pets • tips • zen frenz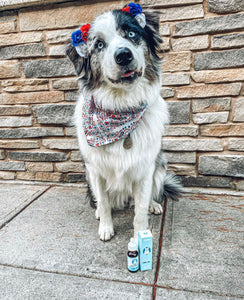 In modern-day America, the Fourth of July is a wonderful time to enjoy a long weekend chock-full of burgers and hot dogs on the grill, sunshine, music, fireworks, bonfires, friends, and family. Of course, these are all fantastic and also grant us much needed rest and relaxation from the mental stresses of daily, routine life. However, all this excitement often leaves pets neglected who suffer the most from this holiday. The noise and unpredictability of fireworks leads many dogs to perceive them as a threat. Your dog may bark at the noises or try to run away and hide. They...
---
• cbd for pets • do's and don'ts • reduce itching • reduce shedding • skin and coat • tips • zen bites • zen drops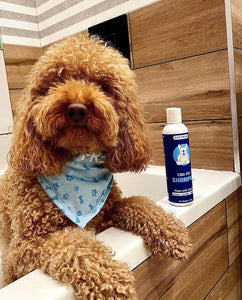 Taking your furry friend to the groomers can not only become an expensive task but may also be an uncomfortable experience for your dog. Most dogs hate taking baths, trimming their nails, or brushing their fur, so when placed in an environment with complete strangers this can become much more daunting. Despite the in-depth training almost all professional groomers have, this can still cause a lot of stress on your dog.   While daily hygiene isn't typically necessary for most dogs, routine grooming habits can prevent unwanted smells, infections, and diseases. There are many simple tricks and tips that can...
---
• faq • motion sickness • nausea • tips • training tips • travel sickness
Something very important that we want to preface is that if your pet continues to have nausea after a few days and/or any other symptoms please contact your veterinarian. We are not equipped to provide any medical diagnoses.    Do you find yourself struggling to deal with a pet who is struggling with nausea? If you are a pet owner then you have probably dealt with some upset stomachs at one point or another. Whether that was from a new food, eating something they should not have, or an illness. Not only is nausea gross to deal with, but it is...
---
• anxiety • cbd • cbd dog treats • cbd for pets • cbd oil for cats • cbd oil for dogs • cbd oil for pets • faq • pet wellness • product reviews • product testimonials • tips
Are you inexperienced with pet CBD but looking to see which product is best for your situation? We hope this article will help point out the key difference between products and aid you in picking which product is best for you.  Zen Bites: Zen Bites are our chewable CBD treats that come in a delicious beef and bacon flavor. Each treat is 4mg of CBD and a few treats over the course of the day is sufficient for most pets. For smaller pets and first time users, we recommend that you can start with a single or half treat to...
---
• dog food • dog foods • dog talk • dog training • dog treats • dogs • faq • fun facts • pet talk • pet training • pet wellness • tips • training tips
Nine Foods That Your Dogs Can't Eat You are probably familiar with some foods that your dog can and can not eat, but you may be extremely surprised by some items that are toxic/not toxic for dogs. In the previous blog we went over a long but not comprehensive list of foods that are safe for your pups to eat. Now we will do the opposite and make a list of foods that are not safe for dogs to consume. Make sure to keep reading because a lot of these might surprise you!  1. Grapes and Raisins Grapes and raisins...