• do's and don'ts • dog park • dog parks • faq • socializing • training tips
As the weather improves and restrictions are lifted, more and more pet owners are returning to their local dog parks. While dog parks are a great place for your dog to socialize and exercise, they only function when all pets and owners follow some basic rules so that everyone can continue to enjoy them. Refusing to follow some basic rules has the potential to ruin the experience for everyone involved.  DO: Basic training It is important before taking your dog to the dog park that they are comfortable with a few basic commands. For example, they need to know their...
---
• dog walking • faq • fitness • summer • summer heat • temperature • training tips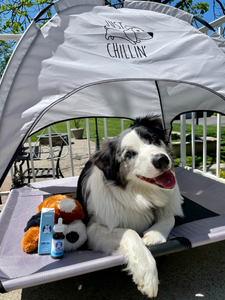 With May soon coming to an end and the hottest parts of the year on their way, it is a good time to talk about pet safety in the heat. As pet owners, we always want what is best for our pets, making sure they are as happy and healthy as possible. If you want to live a healthy lifestyle it is important that you are eating good food, drinking water, and exercising. Those four basics are applicable to everyone, including our pets. It is equally important that they get good food, water, and exercise. But as the temperature and...
---
• faq • motion sickness • nausea • tips • training tips • travel sickness
Something very important that we want to preface is that if your pet continues to have nausea after a few days and/or any other symptoms please contact your veterinarian. We are not equipped to provide any medical diagnoses.    Do you find yourself struggling to deal with a pet who is struggling with nausea? If you are a pet owner then you have probably dealt with some upset stomachs at one point or another. Whether that was from a new food, eating something they should not have, or an illness. Not only is nausea gross to deal with, but it is...
---
• cbd • dosage • dosage recommendation • dosage recommendations • dosing • faq • training • training tips
Zen Drops A liquid form of concentrated CBD which can be purchased in a 250mg bottle or a 500mg bottle.  Suggested Use= Give by mouth or mix with food. Supplement twice a day for overall health, if nessacary exceed dosing recommendations for specific occasions.  Dog Weight Amount Under 25 lbs ½ dropper 25-50 lbs 1 dropper Over 50 lbs  1 ½ dropper Cat Weight Amount Under 25 lbs ½ dropper Over 25 lbs 1 dropper Zen Bites Bacon and beef-flavored CBD infused soft chews. Each chew has 4mg of CBD.  Suggested Use= twice a day for overall health, if necessary...
---
• dog food • dog foods • dog talk • dog training • dog treats • dogs • faq • fun facts • pet talk • pet training • pet wellness • tips • training tips
Nine Foods That Your Dogs Can't Eat You are probably familiar with some foods that your dog can and can not eat, but you may be extremely surprised by some items that are toxic/not toxic for dogs. In the previous blog we went over a long but not comprehensive list of foods that are safe for your pups to eat. Now we will do the opposite and make a list of foods that are not safe for dogs to consume. Make sure to keep reading because a lot of these might surprise you!  1. Grapes and Raisins Grapes and raisins...