• dog recipe • dog recipes • halloween • holiday • peanut butter • recipe • treat recipes • zen frenz
Here at Zen Frenz, we're getting ready for the spooky season. We have updated our Instagram account with a fall theme just in time. We also are very excited to host our annual costume contest soon! Last year we had some awesome submissions and we are excited to see what everyone has in store this year. But, until then, we have been looking into some spooky halloween treats to give to you pup. Here are some delicious Halloween themed treats that are simple to make for your furry best friend. Throw 'em a Skeleton Bone A bone is the quintessential...
---
• cbd • cbd dog treats • cbd for pets • dog recipe • dog recipes • peanut butter • recipe • treat recipes
Here at Zen Frenz, we recently launched our Zen Frenz Peanut Butter. It has quickly become very popular and is flying off the shelves. We've found that owners use it mostly as a special treat for their pups. We've done some research and discovered a simple tasty treat recipe for when your pup deserves an extra special treat.  Homemade dog treats are the best way to show your pet that you love them like family! These homemade peanut butter dog treats are an easy dog biscuit recipe that your fur baby would request every week if they could. If you've...
---
• celebration • cinco de mayo • dog party • holiday party • recipe • tips • treat recipes • treats
Cinco de Mayo is quickly approaching, this year Cinco de Mayo falls on this coming Wednesday! With the COVID-19 pandemic still affecting everyone around the world, it's likely that your usual plans on having tequila, tacos, and beers with friends might be put on hold for another year. Since you probably won't find yourself at a formal Cinco de Mayo celebration, why not celebrate safely at home with your furry friends and loved ones? "Cinco de Mayo commemorates the Mexican army's victory over Napoleon III's French forces at the Battle of Puebla on May 5, 1862. The holiday has become...
---
• cbd dog treats • cbd for pets • dog treats • recipe • treat recipes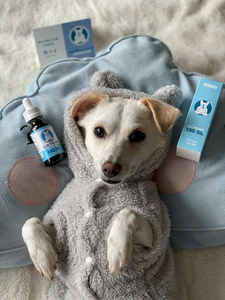 Whether you make homemade treats for your dog regularly or you are wanting to try it out for the first time, these recipes are sure to be a hit with your pup! And best of all, all of these recipes are safe for humans.  All of these recipes use either CBD oil or CBD peanut butter, here's where you can buy some:  CBD Oil CBD Peanut Butter No-Bake Pumpkin and Tumeric CBD Dog Treats* 2 cups pumpkin puree* 3 tbsp. Honey 2 cups rolled oats 3 tsp. Turmeric 3 tbsp. Coconut oil CBD oil  1. Mix all of the ingredients...