• anxiety • moving • zen bites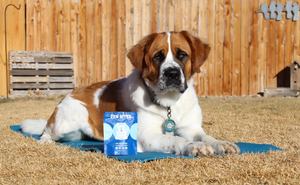 Whether you have a new pet or are moving to a new home your pet will have to adjust to their new surroundings, which includes people too! Our pets struggle with adjustment just as much as we do so it is important to aid them in this transition. Keep reading to learn our tips for a smooth transition for you and your pet.  Introduce a Routine Routines can be a good way to keep your pet comfortable throughout the transition to their new space. If you are moving homes, it would be a good idea to give them their own...
---
• cbd for pets • fall • Gratitude • zen bites
At Zen Frenz we're dedicating the month of November to gratitude, which means we're thinking about what we're most thankful for. In a couple of weeks, it will be time to gather with our friends and family, but it's never too soon to be grateful! One thing we love the most is our pets; keep reading to find out why we are thankful for our pets this giving season. Companionship Pets are our most constant and consistent friends because they will always be there for us through good times and bad. They're never too busy for us and will be...
---
• activities • allergies • dog walking • fall • hiking • zen • zen bites • zen drops • zen frenz
Here at Zen Frenz, fall is one of our favorite times of the year. The days get shorter and the fall foliage begins its change from green to crimson, orange, and gold. Hot coffee takes on new meaning when crisp mornings herald the approaching autumn. A morning walk by nearby ponds and lakes takes on a mysterious feeling with wisps of fog rising from the water. Dogs also enjoy these moments along with the quality time they spend with their owners. Here are a few things dogs love about fall below.  Fewer Allergies Spring and summer months bring on allergies. Whether from...
---
• anxiety • halloween • movie • zen • zen bites • zen drops • zen frenz
Here at Zen Frenz, we love to branch out and try new things. One thing we are getting into during the holiday season is Halloween and, in particular, scary Halloween movies. However, these movies are anything but zen, we still enjoyed them and wanted to share our favorites with you and your pup. If you're going to be spending Halloween in a similar way, why not find a Halloween movie to watch with your dog? It's a great way to keep your dog happy and safe this Halloween.  Do you have a favorite Halloween dog movie? There are many excellent...
---
• activities • fall • joint support • mobility • pumpkin • zen • zen bites • zen drops • zen frenz
Here at Zen Frenz, one of our favorite zen activities is to go out and experience nature. Now that it's the Halloween season, a great activity is to go to a local pumpkin patch and walk around.  A visit to a local pumpkin patch with your dog can make for some great memories and photo opportunities! Before you head out to the pumpkin patch with your pooch, be sure to check out these tips: 1.) Call Ahead Make sure to take a moment and call the pumpkin patch to find out if they're pet-friendly before heading there with your dog...