• bath • cbd • dog • shampoo • zen • zen frenz
Here at Zen Frenz, we believe "Look good, feel good" and this is the same for your pup. A fresh bath makes a huge difference for your dog and it will make them feel fresh and rejuvenated. However, sometimes this task can be a little challenging. Whether your dog loves baths or runs the other way,  bathing your dog regularly is an important part of caring for your pet. Here are some tips and tricks to help your pet get zen! How Often Should You Bathe Your Dog?  Unless your pooch just spent the afternoon splashing in mud puddles, you...
---
• activities • dog • dog treats • summer • zen bites
Over the summer people have been getting new pets and need to teach their dogs how to behave and obey. Here at Zen Frenz, we are all about the wellness of your pet. Wellness includes the behavior of your dog. Below is a way to teach your dog how to sit! With your dog in a standing position, hold a tasty treat near their nose. You can try a Zen Frenz Calming Chew or even a Zen Frenz Bacon and Beef Zen Bites! Keeping the treat near your dogs nose, move your hand in an arc over his head. As...
---
• activities • beach • cbd for travel • community • dog • events with pets • exercise • pet swimming • summer activities • summer fun • summer heat
Here at Zen Frenz, we want all pets to live their best lives. And a trip to the beach is one of their favorite things. Here are some helpful tips to make your next beach day zen and fun! Taking your dog to the beach? Make sure that beach takes dogs! First things first. Always check the local rules—they're usually posted publicly—to make sure it's okay to bring your dog to the beach.  You can also soak up the sun at an off-leash dog park or dog beach. More and more dog owners are discovering pet-friendly destinations to visit with their...
---
• calming chews • cbd • cbd dog treats • cbd for pets • cbd for travel • cbd oil for dogs • cbd oil for pets • dog • dog daycare • dog food • dog park • dog walking • dogs • fitness • old • reduce shedding • senior • skin and coat
Here at Zen Frenz, we're so fortunate to have been able to help dogs of all ages. From young pups to double digit warriors our products have made them feel much more Zen! One testimonial we'd like to share is from a member of our Zen Frenz family Annette Lecair with her goldendoodle Tucker, who said, "I honestly believe because of zen dogs cbd we had four more happy healthy years with Tucker."  By most accounts, dogs are considered seniors after age six or seven. Large breeds age faster than small breeds, so there's some wiggle room in that timeline....
---
• activities • do's and don'ts • dog • dog talk • events with pets • tips • zen frenz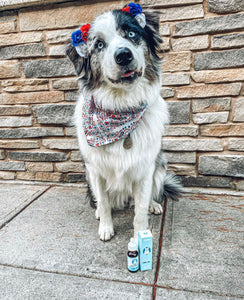 In modern-day America, the Fourth of July is a wonderful time to enjoy a long weekend chock-full of burgers and hot dogs on the grill, sunshine, music, fireworks, bonfires, friends, and family. Of course, these are all fantastic and also grant us much needed rest and relaxation from the mental stresses of daily, routine life. However, all this excitement often leaves pets neglected who suffer the most from this holiday. The noise and unpredictability of fireworks leads many dogs to perceive them as a threat. Your dog may bark at the noises or try to run away and hide. They...