• activities • cbd for pets • celebration • events with pets • new years eve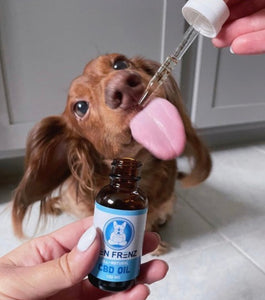 New Years is a great time to celebrate with family and friends. We get to watch a beautiful fireworks show and in some places light our own! Unfortunately this day isn't as fun for our pets who can hear much better than us and get easily startled by these loud noises. New Year's Eve is the day when most pets go missing because they run away in fear. Lots of pets get very anxious; one way to ease their anxiety is by using Zen Frenz Zen Drops which are great for anxiety relief. Keep reading to hear about our other...
---
• activities • beach • dog party • events with pets • summer activities • summer events • summer fun • summer travel
As the end of summer is coming around, and your kids go back to school and you are going back to work, your dogs might start to feel a little lonely. To help, do these end of summer activities to keep your dog's active and happy. Zen Frenz is all about wellness! What a better way to spend the end of summer than with your doggy! 1.Take a Hike Dogs big and small are excellent hiking companions. Make sure that they are socialized among people and other dogs and that the weather is not too hot so you can have...
---
• activities • beach • cbd for travel • community • dog • events with pets • exercise • pet swimming • summer activities • summer fun • summer heat
Here at Zen Frenz, we want all pets to live their best lives. And a trip to the beach is one of their favorite things. Here are some helpful tips to make your next beach day zen and fun! Taking your dog to the beach? Make sure that beach takes dogs! First things first. Always check the local rules—they're usually posted publicly—to make sure it's okay to bring your dog to the beach.  You can also soak up the sun at an off-leash dog park or dog beach. More and more dog owners are discovering pet-friendly destinations to visit with their...
---
• activities • do's and don'ts • dog • dog talk • events with pets • tips • zen frenz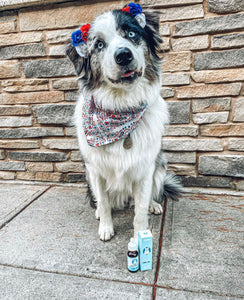 In modern-day America, the Fourth of July is a wonderful time to enjoy a long weekend chock-full of burgers and hot dogs on the grill, sunshine, music, fireworks, bonfires, friends, and family. Of course, these are all fantastic and also grant us much needed rest and relaxation from the mental stresses of daily, routine life. However, all this excitement often leaves pets neglected who suffer the most from this holiday. The noise and unpredictability of fireworks leads many dogs to perceive them as a threat. Your dog may bark at the noises or try to run away and hide. They...
---
• activities • anxiety • calming chews • celebration • events with pets • summer events • zen bites
As the Fourth of July is coming up and everyone is grabbing their loved ones to celebrate this holiday this year you want to be looking the best as possible. You also want your pets to look at the best they can be. Everyone wants their pet to be the center of attention because of all the compliments they can get! Thinking of ideas of how to dress your pet up might be hard, so here are five ideas you can try!   Spray paint your dog as the flag! Now this might seem a little crazy, but why not?!...