• celebration • christmas • do's and don'ts • dog breed • dog community
With the holiday season approaching, we are all thinking about what gifts we can get our loved ones. A very common idea especially for children is a puppy. While the idea of your child falling in love with a cute puppy during the holidays is charming, it is important to consider what comes after. Sadly many dogs are given to the shelter after the holidays because they were bought without any forthought. In order to avoid that tragedy this year, keep reading for important considerations before getting a new pet.   Research      Getting a dog requires research to ensure...
---
• dog community • dogs • meditation • pet • pet wellness • zen • zen frenz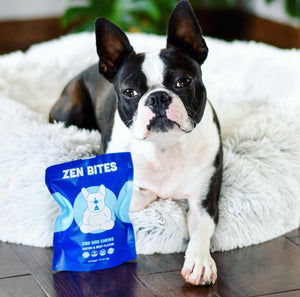 Here at Zen Frenz we are all about getting zen and nothing is more important than sleep. Sleep is an important part of a puppy's life because most growth occurs during this time. Also, a well-rested puppy is a healthy puppy. You want to make sure that your puppy is comfortable and has a bed to call his own. There are many different pet beds from which to choose. Most beds involve a soft cushion for a base and then may be open or enclosed with a long, thin stretch of pillow called a bolster. The cushion could also be...
---
• dog • dog breeds • dog community • dogs • exercise • pet • pet talk • zen frenz
Are you thinking about getting a dog but don't know which kind? There are so many different breeds to choose from and it is hard to know if you made the perfect choice. Knowing the characteristics of dogs and what you might get yourself into is so important before getting a doggy of your own!  Here are the most popular breeds of dogs: Labrador Retrievers Labrador retrievers are great dogs that live up to 12-12.5 years! They are outgoing and very friendly. They are big dogs however and can get up to 55-80 pounds! If you love big dogs, this...
---
• cat community • cat instagram • community • dog community • dog instagram • instagram • pet community • pet instagram • social media
Currently, it feels like the world is quickly on its way back to normal. Many people are projecting that come around mid to end June or early to mid-July 80% of adults in the United States are going to be fully vaccinated. Every day as more and more people are becoming vaccinated our chances of hitting herd immunity increase. Additionally, the FDA and United States government recently announced that more testing had been done and now anyone over the age of 12 was eligible to get vaccinated. Previously, only those 18 and up were eligible. For over a year many...
---
• cat community • community • dog community • pet community • zen frenz
You may have heard us talking about building a community of passionate pet owners, but with no other context or definition you might be a little confused as to what that really means.  In order to help explain what this means, it is important to familiarize yourself with our mission statement, "Zen Frenz aims to be the future of pet wellness. We are dedicated to building a community of passionate pet owners who strive to bring themselves their Frenz the best lives possible." Zen Frenz aims to be more than just another pet brand, Zen Frenz aims to be more...