Here at Zen Dogs and Cool Cats, we know many of you enjoy putting love into your treats by making them yourself. Today, we are going to share three easy-to-make CBD dog treats.
CBD Dog Treat 1: Peanut Butter Yum Yums
For the first treat, you'll need to grab the following ingredients:
2 cups of flour
1/2 cup peanut butter
2 eggs.
Mix all ingredients together in a bowl (or in your mixer) until combined. Add water until the mixture becomes wet enough to roll out as dough.
Cook at 350 Fahrenheit (or until done). Add CBD to each biscuit. Serve.
CBD Dog Treat 2: Apple Deliciousness
You don't even have to cook for CBD dog treat 2!
Grab two apples, a cup of nonfat plain yogurt, and some ice cube trays. Don't forget your CBD.
Place your apples in the mixer along with your nonfat plain yogurt (and CBD). Then, pour the mixture into each individual ice slot.
It's kind of like you're making CBD applesauce for your dog. Except, it's frozen!
CBD Dog Treat 3: Cheesy Bones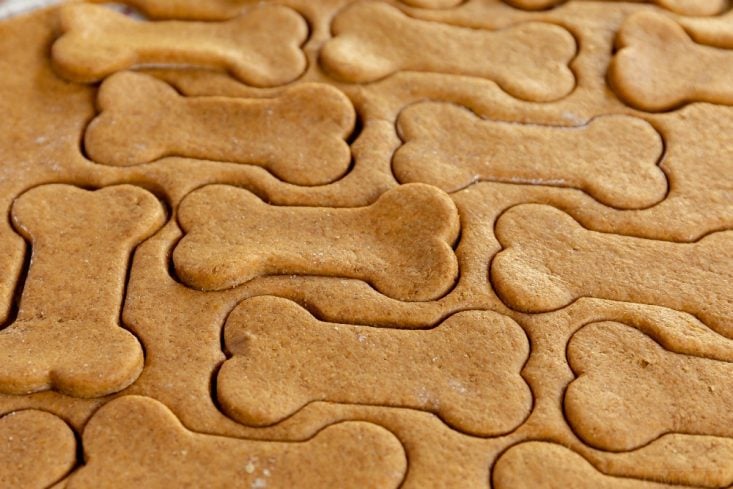 This final treat takes a little more work, but don't worry, it's not too much more. Plus, they make your kitchen smell fantastic. 
For this you'll need:
4 cups flour
2 cups shredded cheese
Coconut oil
Water
Combine the flour and cheese together. Mix it up a little bit. Add one tablespoon of coconut oil. Then, add water as needed so you're able to roll this out and make some cookies (really neat with a bone-shaped cutter). 
Set your oven to 250 Fahrenheit and throw them in on an ungreased cookie sheet. Wait 2.5-3 hours for them to be finished. Then, add your CBD oil to each!
Don't Forget Your CBD Oil for the Dog Treats
We don't want you to start making these and find out you forgot your dog's CBD oil. Click here to grab some today so you can get to cookin'!