Zen Frenz
Zen Bites - All Natural Calming Chews for Dogs & Cats
Regular price
$25.00
$0.00
Unit price
per
Zen Bites - All Natural Calming Chews for Dogs & Cats 
Peanut Butter & Honey Flavor

Stress & Anxiety Relief

Balanced Behavior Support

Non-Drowsy

Travel Friendly 

Made with Key Ingredients 
Organic Ginger Root Powder
L-Theanine
L-Tryptophan

GABA

Delicious Flavor
Natural Peanut Butter Flavor
Beef Liver
Sweet Potato 
Honey

Carrot

Made in the USA

No GMO

GMP Certified
Customer Reviews
07/24/2021
Jennifer D.

United States
It's Helping!
My oldest Boston Terrier has anxiety when guests come over and when he is away from the house. He's been on Zen Frenz for a little over a month and had done much better and is more calm in both situations.
07/22/2021
CJ a.

United States
Peanut Butter and Honey Calming Chews smell like fresh peanut butter cookies.
When I took the lid off of the jar, I smelled peanut butter cookies. I am super picky about what Indy eats, and what products we use for him. I always read the labels to see what is in them and where they are made. I was so happy to see that these contain all natural ingredients. The true test is would he eat it ? I gave him one of chew to try and he loved it. When I went to put the jar away, he tried to take it off of the counter, to get a another one. I'm pleased to have a product to use in times he is anxious, that I know he will eat, I know will soothe him and I can trust. You know a product is healthy and natural when it smells like a fresh baked cookie! These are definitely a product I will keep on hand for him!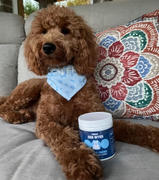 07/06/2021
Kristy K.

United States
Zen Bites
We really were amazed at how well these worked. We shared with our camping buddies over the holiday weekend and it really helped with the fireworks and the sheer amount of dogs at the campground over the weekend. It really helped on the sheer amount of barking and anxiety for the high amount of traffic there for the holiday. We will surely keep These on hand and think they are amazing
Finding our Zen
All 3 of our dogs Love Zen chews! They ate them in no time and were wanting more. We have one dog that has some anxiety and allergy issues and it seems to have helped with both. He's more relaxed and isn't scratching and licking his paws like he did before starting the chews. We have two that are terrified of fireworks so I'm excited to see how well they work for the July 4th fireworks.
06/19/2021
helen s.

United States
Calmed scared kitty
My daughter's puppy is staying with us and he is very active and scares my cat Bella. She is scared of his barking and running after her. She was aggressive and trying to scratch him.I gave her the chewy bites to help calm her. She had trouble chewing them so I cut it in half. She liked it and calmed down a bit.
---