Zen Frenz
500mg for Dogs & Cats
Regular price
$60.00
$0.00
Unit price
per
Zen Frenz - All-Natural 500mg CBD Oil for Dogs & Cats
All-Natural CBD Oil
For Dogs & Cats
Made with MCT Oil
All Natural Wellness Supplement
Stress & Anxiety Relief
Balanced Behavior Support
Mobility/Joint Support
Anti-Inflammatory Support
Anti-Itching Support
Appetite Stimulation
Easy Administration
Non-Psychoactive 
Product Certifications:
Made in the USA
Made with Organic Ingredients
Lab Tested
GMP Certified
No GMO
 Dosage Recommendations:
Supplement twice a day for overall health and wellness. If necessary gradually exceed dosing weight recommendations for specific occasions!
Customer Reviews
07/15/2021
Jade R.

United States
07/15/2021
Susan B.

United States
CBD oil
Bailey loves the CBD oil. I give it to her before stressful situations. It has really helped her with her anxiety when going for car rides. We gave her some before her last grooming appointment and they were even able to clip her nails which they have not been able to do. The groomer said she was so much calmer and happy while she was there. I highly recommend.
07/13/2021
Alex M.

United States
CBD Drops = Must Have!!!
These were a life saver on Melody's first Fourth of July! I took a small piece of watermelon and poked a few holes in it to "infuse" it with the CBD Oil and she gobbled it right up. The fireworks in our neighborhood were like a WARZONE, yet she stayed calmly sitting on my lap. The CBD drops totally helped mellow her out - now we use them at night time to help her wind down. These are an absolute must to have on hand to help your pup cope with stressful situations or anxiety. I can NOT recommend them enough!!!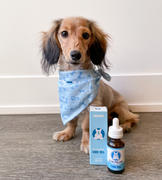 07/04/2021
Shay

United States
Thankful for zenfrenz
Our sweet almost 10yr old female german shepherd Yasha has terrible anxiety when it comes to loud noises like storms and fireworks as well as trouble with pain from arthritis. We were lucky enough to try the zenfrenz cbd oil and she LOVES the taste of it! When she hears me shake the bottle and the click of the top she immediately comes over to get some. It is great to find something that helps ease her anxiety and pain but that's also tasty for her so it's not a battle or negative experience. Thank you zenfrenz!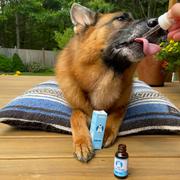 ---