Zen Frenz
250mg for Dogs & Cats
Regular price
$35.00
$0.00
Unit price
per
Zen Frenz - All-Natural 250mg CBD Oil for Dogs & Cats
All-Natural CBD Oil
For Dogs & Cats
Made with MCT Oil
All Natural Wellness Supplement
Stress & Anxiety Relief
Balanced Behavior Support
Mobility/Joint Support
Anti-Inflammatory Support
Anti-Itching Support
Appetite Stimulation
Easy Administration
Non-Psychoactive 
Product Certifications:
Made in the USA
Made with Organic Ingredients
Lab Tested
GMP Certified
No GMO
 Dosage Recommendations:
Supplement twice a day for overall health and wellness. If necessary gradually exceed dosing weight recommendations for specific occasions!
Customer Reviews
04/18/2021
Maegan S.

United States
04/16/2021
Gloria S.

United States
Love it!!!
It was amazing to see Luna relaxed! Luna has separation anxiety and we were looking for a product that would work. No whining or pacing around the house after we tried the ZenFrenz CBD oil! We have definitely been recommending it to all of our friends because it really works. Looking forward to trying some of their other products.
04/14/2021
Jordan W.

United States
The only CBD Oil that works!!
We have tried so many different CBD oils and this is the only one that they enjoy the taste of and benefit from. As someone who personally uses CBD oil daily, I can attest to the benefits of a quality CBD oil. Our last dog was able to live for 2 extra years and walk with daily use of CBD oil. Ruby and Renzo get so excited when we add this to their food. Just taking the bottle out makes them instantly sit and drool, because they love the taste and we love the benefits. Zen Frenz CBD oil is truly magic!
04/14/2021
Kelsie W.

United States
Definitely recommend!
This is one CBD oil that my dog Flynn actually likes! He will lick it without me having to add a treat or food to it. We use it before long car rides and before the vet, he does well on it without getting lethargic and panting a lot. It definitely calms him but I like that he is more himself while using it. 100% recommend for dog owners. Flynn is a 35lb mini Aussie and he is 6 years old.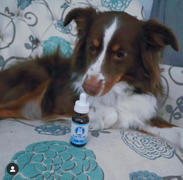 04/13/2021
Ramneek

Canada
---