Zen Frenz
Zen Bites - Bacon & Beef for Dogs & Cats
Regular price
$25.00
$0.00
Unit price
per
Zen Bites CBD Pet Chews Bacon & Beef Flavor.
Our Zen Bites feature a mouth watering Bacon & Beef flavor your furry friend will love! These CBD infused soft chews are ready to supplement on-the-go to help keep your pet Zen in any occasion. 
Key Ingredients:
Organic Hemp Seed Powder: A complete source of protein; providing all nine essential amino acids.
Beef Liver: The most nutrient dense organ meat; rich in Vitamin A.
Flax Seed: Rich in Omega-3 fats and fiber to support digestion.
Sweet Potato: Rich in anti-oxidants; immune system support.
Potential Benefits Include:
Stress and Anxiety Relief
Anti-Inflammatory Support
Appetite Stimulation
Non-Psychoactive
Product Certifications:
Made in the USA
No GMO
GMP Certified
Made with Organic Hemp Powder
Dosage Recommendations:
Supplement twice a day for overall health and wellness. If necessary gradually exceed dosing weight recommendations for specific occasions!
Customer Reviews
07/25/2021
Alexa

United States
07/21/2021
Lisa

United States
07/13/2021
Soon

United States
2 Paws Up From Maui (and us)!!
We've been giving Maui our 2 year old Mini Goldendoodle CBD since he was a puppy which he loves. We were elated to try the Bacon & Beef Zen Bites for Maui and he absolutely L-O-V-E-S 'em! And we love the key ingredients & any chance to support an amazing small business like Zen Frenz! Highly recommend Zen Bites for your pet's future needs! Thank you, Zen Frenz!!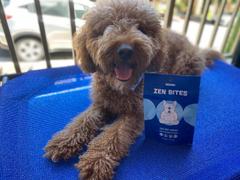 07/12/2021
Zach

United States
Outstanding Product!
Our dog loves these bacon and beef flavored Zen Bites! This was our first time trying a CBD product with our pup. He gets overexcited when we have houseguests and gets anxious during car rides. With a couple Zen Bites before these situations, our dog is noticeably more relaxed. Love that they are made in the U.S.A. with high quality ingredients. Would highly recommend Zen Frenz to others!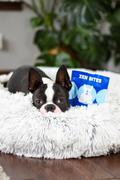 07/10/2021
Anita D.

United States
She loves them and We love them too!
Our little Aussie has experienced high anxiety every 4th of July, our neighbors love their fireworks. This year was soo much different. She was calm, instead of running around, she was able to listen to commands, instead of the wild look in her eyes and lack of attention. She was able to go outside and do her thing during the bangs, instead of holding it until the bangs were done. It really was a lovely 4th for her and us! Thank You Zen for an easy to give and tasty treat, that helps dog and owner alike.
---